About My Phone Support
My Phone Support is a premium tech support service staffed by friendly experts available 24 hours a day. Our technology allows us to connect to your computer and fix almost any tech problem you have. We can even help you with third-party software, phones, printers, gaming consoles, scanners, digital cameras, and more. Plus, My Phone Support costs a fraction of what other support companies charge for the same repairs and troubleshooting work. Discover the difference for yourself, and get premium support from My Phone Support today.
Learn How it Works
Just call My Phone Support, anytime, anywhere and we'll help you fix your tech problem. Our unique technology allows our experts to create a secure connection directly to your PC over the internet and fix your problem as you watch. And if your internet connection is not working, our experts can help you reconnect or walk you through the problem right over the phone. And don't worry about your security or privacy - all connections to your computer are fully encrypted and can only be opened by you. Give us a call today and see if we can solve your problem!

Call 1-855-417-6162 anytime - seven days a week, year round.
Allow our tech support experts to securely access your PC over the internet.
Our experts will fix your problem right before your eyes and be right there on the phone.
What Problems Can We Solve?
Our tech experts are highly trained and have years of experience fixing all types of computer, software, and tech problems. In fact, if we can't fix your problem, you get your money back!
System Won't Turn On or Boot
Windows "Blue Screen of Death" and Error messages
Computer Freezing Up
Virus Removal
Installation of Anti-Virus & Firewall
Setup Internet Connections, Firewall, and Security Software
Configuring Firewalls
Configuring Security Software
Windows Updates
Reinstall Windows
Upgrading to Windows 10 or 8
Repair DLL Messages or Startup Problems Related to Windows
Remove Popup Ads
Slow Performance
Back-up Hard Drive, iPod, or iPhone
Cannot Connect to Internet (no issue from ISP side)
Unable to Browse Certain Websites
Printer Installation
Cannot Print, Scan, or Send Fax
Microsoft Office Problems
Setup of MS Outlook or Outlook Express
Problems Sending Bulk Emails
Unable to Send or Receive Emails
Setup Email Clients like Incredimail, Thunderbird, and Opera
Unable to Download or Install Software or Applications
Wireless Internet Setup
Wireless Printer Setup
Setup and Configure Computer or Laptop
Support for Older System like Windows 98/Me/2000
Help Using a Digital Camera with your PC
Help Printing Photos from a Digital Camera
Configuring Ports and Routers to Enhance Security
Parental Control Setup
Support for Configuring Windows Defender or other Security Software
Setup and Support for a Your Mac and Mac Software
What All Do We Support?
Some companies can only help you with hardware or software or only certain brands. We do it all, whatever your tech issue may be!
About Our Experts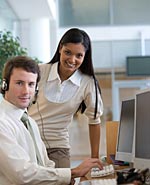 When you call My Phone Support you will immediately be connected to one of our tech support experts. All of our experts have excellent technical qualifications, thorough knowledge of Windows systems, and at least 2 levels of certification. We pride ourselves on our fast, friendly service.
Plus, our team includes highly trained specialists with Microsoft, CISCO, Oracle, Novell, and Apple certifications like A+, MCP, CCNA, MCSE, CCNP, Net+, Red Hat, Linux, and Mac OS expertise. With My Phone Support, you have access to the same highly trained professionals that corporate IT departments use - ready to focus on your problem.
Support in Your Home or Office
We are able to fix 99% of problems remotely through the internet, but sometimes there's a problem that requires a technician to visit your home or office. That's why we have on-site technicians available nationwide. Whether it's installing a new hard drive or helping with a complete system restore, we are happy to help. (Note: additional fees may apply for on-site visits; technicians not available in all areas.)
How Do We Compare?
Not only do you get better support for more technologies from My Phone Support, you also save money! Here's the cost of a virus repair from My Phone Support versus our competition:
My Phone Support
Fixing a virus
$79.95


BEST VALUE!
Save even more with our unlimited support.

Competitor 1
Fixing a virus
$99.95


Web-based tech support company.

Competitor 2
Fixing a virus
$149.99


Big box store tech support company.
My Phone Support also has superior support for your PC, Mac, software, peripherals, gaming consoles, MP3 players, phones, and more!
My Phone Support

Laptops
Desktops
Game devices
Printers
Scanners
Monitors
Flat Panels
USB Accessories
Speakers
MP3 Players
PDAs
Digital Cameras
Wifi Installation
Networking
Windows Programs
Windows OS
Mac OS
ISPS
Modems & Routers
DSL/ADSL
Data Backup
PC Tune up
Virus & Spyware
Device Installation
Webtraining
Consulting
Onsite Support

Competitor 1

Supported
Supported
No
No
No
No
No
Supported
No
Supported
No
Supported
Supported
Supported
Supported
Supported
No
No
Supported
Supported
Supported
Supported
Supported
Supported
No
No
No

Competitor 2

Supported
Supported
No
Supported
Supported
No
No
Supported
No
Supported
No
Supported
Supported
Supported
Supported
Supported
No
No
Supported
Supported
Supported
Supported
Supported
Supported
No
No
Supported

Competitor 3

Supported
Supported
No
Supported
Supported
No
No
No
No
Supported
No
Supported
Supported
Supported
Supported
Supported
No
Supported
No
Supported
No
Supported
Supported
No
Supported
Supported
Supported
Plans and Prices
Get our premium customer support today and get help from all our experts whenever you need! Whether you just need one fix or want the value of our unlimited plan, our low prices compete with any other tech support service out there! Get started today and get superior tech support from the My Phone Support team.
1-855-417-6162
Toll-Free, Available 24/7

Tech Support Phone Number
1-855-417-6162
Call My Phone Support Today
for Expert Tech Support
1-855-417-6162